World's leading lawyers to take part in a discussion over blockchain tech regulation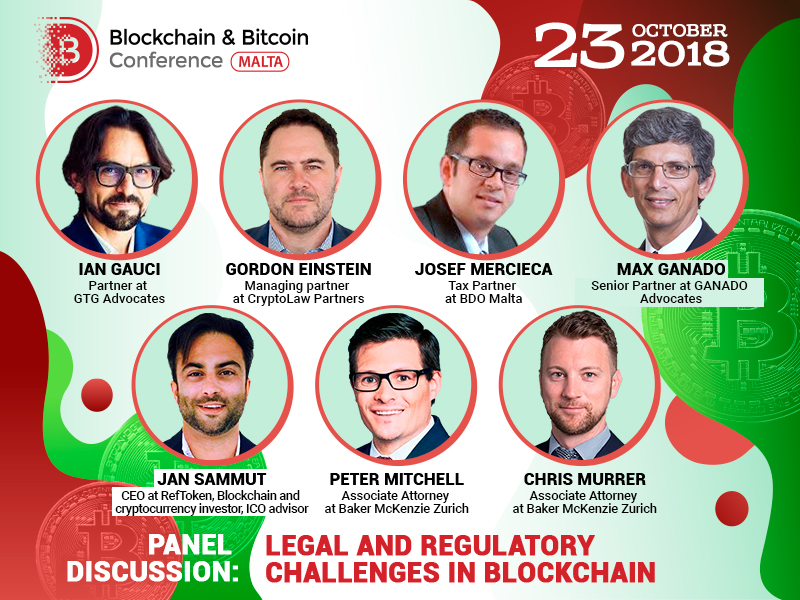 A panel discussion featuring the problems of digital assets regulation will be part of Blockchain & Bitcoin Conference Malta. World's leading lawyers and crypto experts will discuss the ways of legislation development in terms of cryptocurrencies and blockchain business. They will also explain how decentralized technologies influence the global economy.
The joint experience the participants have gained exceeds 100 years. Here is the list of the panel discussion members:
• Ian Gauci, Co-founder at Blockchain Malta Association, Partner at GTG Advocates & Afilexion Alliance. He is one of the strategic advisors appointed by Maltese Government on the National Blockchain Strategy Taskforce.
• Max Ganado, Senior Partner at GANADO Advocates, the largest law firm based in Malta. Specialist in the field of voluntary organizations, trusts, and investments as well as investing in cryptocurrencies. Max Ganado has been practicing law for the past 35 years.
• Gordon Einstein, Blockchain and Crypto Partner at CKR LAW LLP. Gordon is a lawyer focused on crypto and blockchain tech. He helps with AML/KYC/FinCEN/money transmitter licensing and compliance.
• Josef Mercieca, Tax Partner at BDO Malta. Tax expert with a fifteen-year experience at the large international companies, for instance, Ernst & Young. He also co-leads the blockchain advisory team at BDO Malta.
• Jan Sammut, CEO at RefToken, Founder at ICO Launch Malta. He also consults ICO startups. Founder and Head at a full service ICO platform — ICO Launch Malta.
• Peter Mitchell, Associate Attorney at Baker McKenzie Zurich. US-qualified attorney specializing in the fields of international tax and wealth management. Practiced commercial litigation and insurance defense.
• Chris Murrer, Associate Attorney at Baker McKenzie Zurich. Focused on business planning, wealth management, international and domestic taxation, charitable planning, and estate and trust planning.
---
Join us at Blockchain & Bitcoin Conference Malta and find out more about the approaches towards the regulation of digital assets from world's top lawyers.
Meet new speakers and key news of the conference