Who tracks Bitcoin transactions: Cubits founder about anonymity of the first cryptocurrency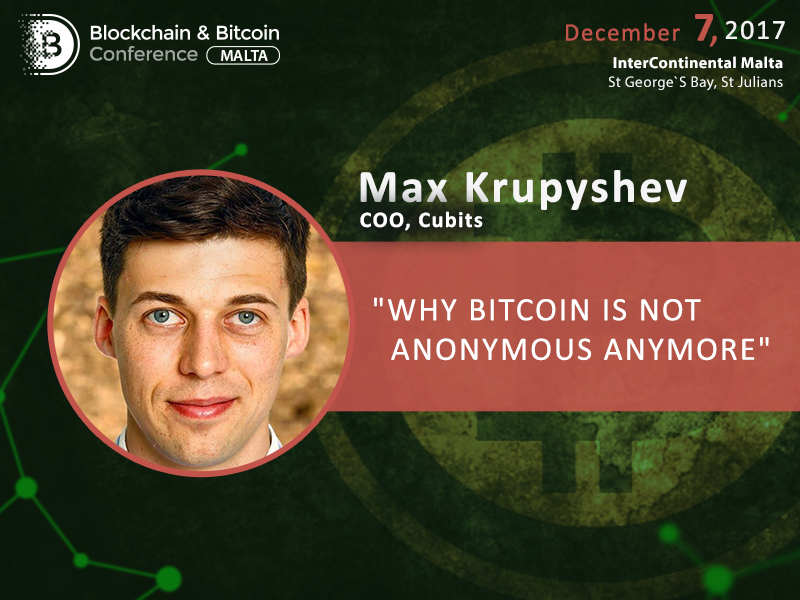 Why Bitcoin is not anonymous? Max Krupyshev, one of the speakers of the upcoming Blockchain & Bitcoin Conference Malta, will provide detailed information on the issue. In his presentation, Max will tell about companies that develop software for tracking Bitcoin transactions and how government invests in the technology.
Debates on Bitcoin's anonymity burst out with renewed vigour in August when journalists revealed data from the US Internal Revenue Service (IRS). It turned out that the IRS had been tracking Bitcoin transactions using special software for already two years. It is possible thanks to the fact that Bitcoin is not anonymous from technical perspective, as all transaction data is entered in blockchain and publicly available.
Max Krupyshev will explain why calling Bitcoin 'anonymous' is not correct and which methods tax authorities and security services can use to track cryptocurrency transactions. He will also tell who finds it profitable to invest in tracking technologies and which implications these developments will have for business.
Max Krupyshev is a Chief Operations Officer at Cubits, a service for quick Bitcoin to cash conversion and vice versa. Cubits works with Visa and Master Card payment systems. The project team believes that cryptocurrency should be user-friendly and accessible to people throughout the world. Therefore, transaction tracking is one of the important issues in the work of Max and his colleagues, and they keep an eye on relevant news and trends.
Meet new speakers and key news of the conference