Victory or Death – blockchain evangelist Patrick Young will talk about further paths of blockchain and cryptocurrencies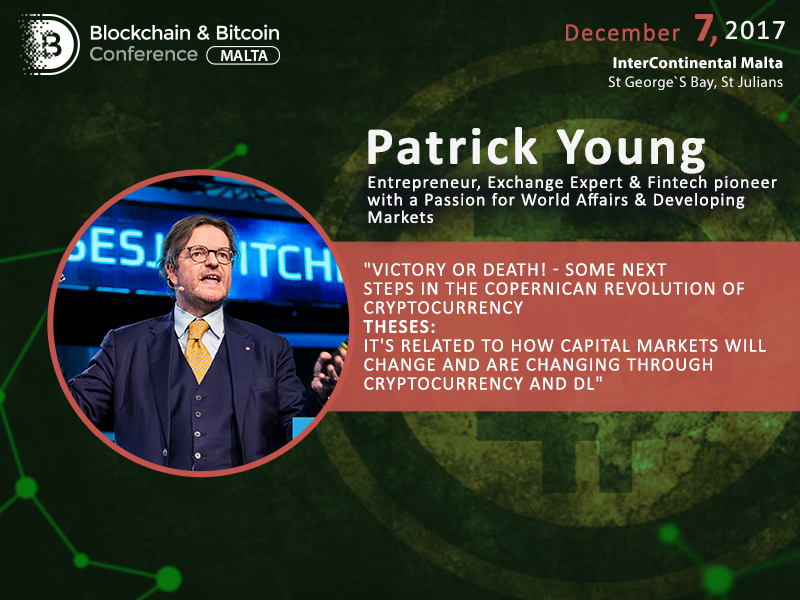 What will happen to cryptocurrency tomorrow? A question that interests many people, from students to presidents. Patrick Young, an expert with years of experience in fintech process analysis, is ready to shed some light on this matter at Blockchain & Bitcoin Conference Malta.
Patrick Young's presentation will be titled "Victory Or Death! – Some Next Steps in the Copernican Revolution of Cryptocurrency". Expert will analyze how cryptocurrency is changing capital markets today and what can these processes lead to in the future: the most likely scenarios.
Patrick Young is a financial technologies pioneer who started studying them back in 1994. In 1999, he published his first book, "Capital Market Revolution!", which was ahead of its time in many ways.
Patrick Young was one of the first to openly speak about the great importance of decentralized technologies and cryptocurrency. During his stay in Poland, Patrick was an active member of the local bitcoin community. And Hanza Cafe coworking space, owned by the Young family, was one of the first in Europe to accept payments in bitcoins.
Today Patrick is a popular blockchain evangelist, often speaking at specialized events and for the press. He is the CEO of HanzaTrade startup (a cargo handling platform) and executive director of the Finitech consulting company Derivatives Vision.
Register to Blockchain & Bitcoin Conference Malta.
Meet new speakers and key news of the conference