Top Blockchain Experts Will Discuss ICO at the Conference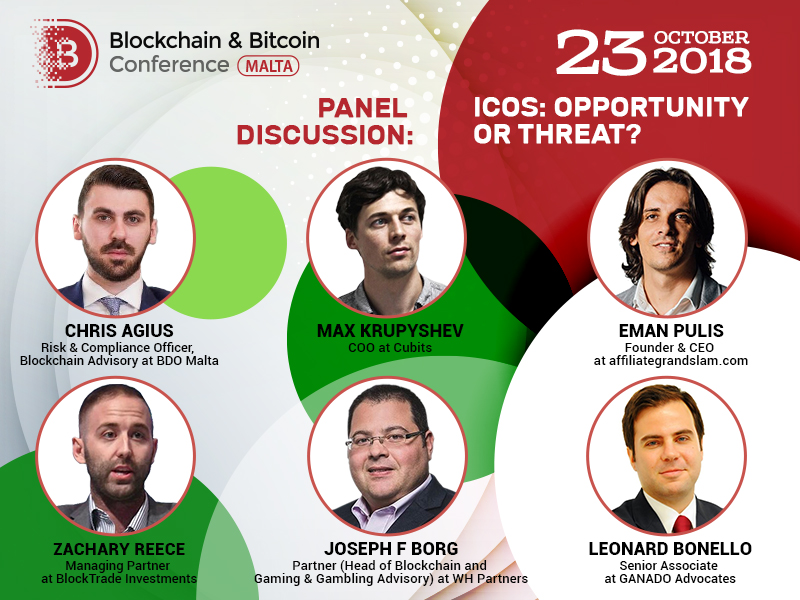 On the one and, initial coin offerings have important advantage: they help startups to raise capital. On the other hand, they are sometimes seen as disruptive for global economy. What is the truth? Leading experts from huge corporations around the globe will meet for the panel discussion "ICO's: Opportunity or Threat?" at the Blockchain & Bitcoin Conference Malta, where they will evaluate positive and negative signs.
Main points:
• scams: how they cause disruptive legislation;
• how ICOs put the traditional economy under threat;
• impacts ICOs have on economy on both macro and micro level;
• perceptions and evaluations of ICOs in different countries;
• the way to move forward.
Speakers:
• Chris Agius is the Risk & Compliance Officer, Blockchain Advisory at BDO Malta. He is an advisor on blockchain-based projects legal structure and legal reports. The expert also works on liaising with blockchain-friendly banks within the EU.
• Max Krupyshev has a position of a COO at Cubits. He also works at the German-based company Bitcoin Inc., where he serves as the Bitcoin expert, analysing crypto world and bringing new opportunities to the market.
• Eman Pulis is the Founder & CEO at Affiliate Grand Slam. He is the expert in gaming industry, organizing conferences and summits for 8 years. For example, he is the founder of the well-known annual Maltese Summit of iGaming.
• Zachary Reece, managing Partner at BlockTrade Investments, is the specialist in tech and finance industries. He has formed the 1st US-based Blockchain Investment Fund and he also works advising companies on ICO projects.
• Leonard Bonello is the senior Associate at GANADO Advocates – one of the oldest legal commercial and financial companies in Malta and the world. He is the expert in ICOs regulation and e-payments with cryptocurrencies.
• Joseph F Borg is the Partner (Head of Blockchain and Gaming & Gambling Advisory) at WH Partners. He is the specialist in esports, IT, intellectual property law and telecom industries. He is also a Vice-President and Co-Founder of Bitmalta, dealing with blockchain and digital coins promotion in Malta.
Interact with speakers and discover all sides of ICOs during the panel discussion at the conference!
---
Meet new speakers and key news of the conference