Most promising cryptocurrencies in 2018: how a newcomer should start investing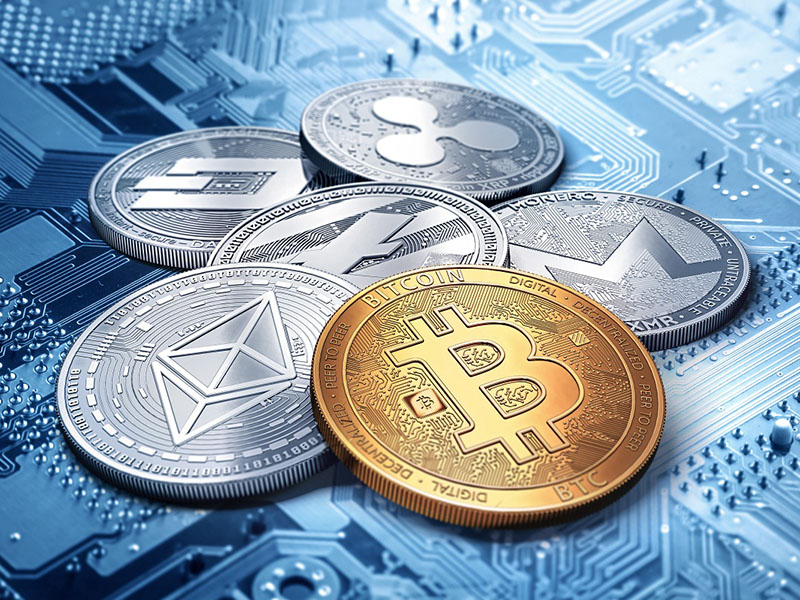 2017 was marked by the explosive growth of cryptocurrencies. The price has increased tens of times, and record high has been hit almost every week. Thereby many people are now interested in virtual money, including those who had no connection to crypto community before and had heard the word "bitcoin" once, without realizing what it was.
However, there are no difficulties for newcomers to join the crypto community. You can find any information around the web as well as friendly communities, which are also ready to share information. A beginner eventually realizes he wants to invest his money in the cryptocurrency, but which one to choose? After all, there are a lot of them on the market, more than 800 types of tokens. So which cryptocurrency is better?
Here is an overview of 7 most promising tokens, which are worth investing in 2018.
Bitcoin (BTC)
Of course, when talking about the most promising cryptocurrencies in 2018, you can not omit bitcoin. It is the undisputed leader, the "king of the hill" in the world of cryptocurrencies, the token with the highest capitalization and the most valuable one. And at the same time the oldest one.
Created back in 2009, bitcoin came a long way from a not very understandable invention, more like a fraud and not worth a penny, to the most popular virtual currency, the capitalization of which is 62.7% of the total volume of the cryptocurrency market.
Only 21 million bitcoins can be mined in total. Now there are 16,506,412 bitcoins on the market.
Ethereum (ETH)
This overview would not be complete without mentioning Ethereum. Unlike Bitcoin, Ethereum is a very young cryptocurrency, as it was released on July 30, 2015, but over the past two or more years has managed to provide a full-fledged competition to bitcoin. The debate on what is more attractive lasts for quite some time, and there is still no winner.
If bitcoin is "digital gold", which is difficult to produce, limited in quantity and at the same time universal in both use and investment, Ethereum is "digital oil".
However, this cryptocurrency has such a nickname not because its investment quality is worse or it is not as good as bitcoin. The thing is that Smart Contracts and many new tokens are created based on Ethereum's blockchain. It is a kind of "fuel" for the entire industry, that fact increases its customer appeal among investors.
The only thing Ethereum objectively gives in to bitcoin is capitalization. It is 28 billion dollars, and this is approximately two and a half times less than the bitcoin index.
Ripple (XRP)
Bitcoin and Ethereum are undoubtedly the best cryptocurrencies, but there are others that are equally good for investment. One of them is Ripple. Unlike the previous two cryptocurrencies, its main field of application is transnational bank payment. Crypto enthusiasts already consider Ripple to be a full-fledged alternative to the SWIFT system, in many ways superior to it. The largest banks and financial organizations in the world are already actively using Ripple. This proves once again: this cryptocurrency has a great future, despite the modest (in comparison with Bitcoin and Ethereum) capitalization of only 7 billion dollars.
IOTA
The promising cryptocurrency of 2018 is not always what the average user means by cryptocurrency, and IOTA is a shining example. This is quite a highly specialized token, and it makes it attractive.
IOTA was created as part of Internet of Things initially. It is developed on the basis of Tangle, that completely excludes miners and commissions for transactions. There are only equal participants on the network who can simultaneously accept and send transactions, being both users and validators. Moreover, IOTA does not even use blocks of information, unlike other cryptocurrencies, the network capacity is simply connected to the number of participating centers.
So far, IOTA is traded only on the Bitfinex exchange, the other crypto exchange markets are still wary of it. However, with the spread of Internet of Things, IOTA attracts more and more investors' attention and demonstrates a steady rise in value. Experts consider IOTA's prospects to be very interesting, especially given the rapid development of the market of connected devices.
Litecoin (LTC)
Litecoin is bitcoin's fork, nicknamed by analogy "digital silver". It is one of the first cryptocurrencies to activate Segregated Witness. Even before that, it had a high transaction confirmation rate, much faster than bitcoin.
In the early years of its existence, Litecoin was "in the sidelines", few people heard about it, it was cheap and was considered to be like "sub-bitcoin" in the crypto community. Nevertheless, in 2017 Litecoin managed to break free, went up more than 10 times and continues to grow. A token is traded on almost all exchanges of the world, that fact makes it even more attractive.
NEO
The NEO platform was previously called Antshares and was known as "Chinese Ethereum". Rebranding was just recently held, but now it is already obvious NEO benefits from it.
First, NEO's blockchain was updated and improved. Secondly, the creators have updated the system of smart contracts, moving to NEO 2.0 format. As a result, NEO has gone up in price 20 times in three months.
NEM (XEM)
NEM was launched in 2015. Its main difference and advantage over competitors is an open source code. In addition, it uses the POI algorithm (Proof-of-Importance), which takes into account not only the storage of funds on the network, but also its activity. For the blocks created, the user receives a reward, harvesting.
The creators of NEM have already announced a major update of the cryptocurrency for 2018. It's called Catapult and it's a transition from Java to C ++. The testing of the new version has already been completed. Developers assure that the new format is able to conduct 3000 transactions per second.
Although it is not widely known in crypto community, NEM is still pretty popular and is actively traded in Japan and some major exchanges such as Bittrex and Poloniex. Now the capitalization of the token is 2 billion dollars.
Of course, these are not all best cryptocurrencies in 2018. It is almost impossible to find out which cryptocurrency is better, as the market continues to constantly change, update and grow. Other tokens can be at the head of the list at the end of next year, and maybe we haven't even heard about them yet.
Meet new speakers and key news of the conference