Major Investors Will Visit the Blockchain & Bitcoin Conference Malta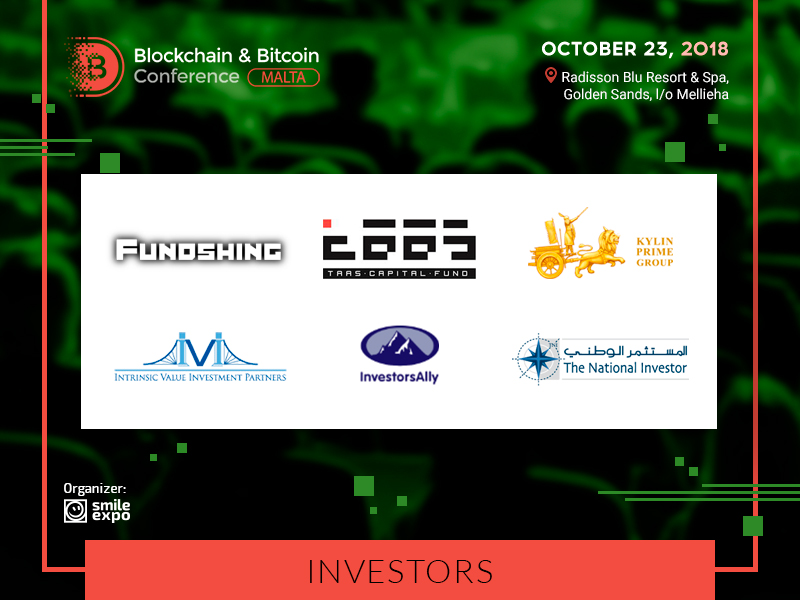 Despite the active development of cryptocurrencies, the access to crypto assets market is still complicated. But there are solutions to the problem.
On October 23, the Blockchain & Bitcoin Conference Malta will welcome major investment companies and venture capital firms.
Fundshing is the platform which provides various solutions to DLT-based startups. Among the services of the company there is help with launching ICOs – in this case, the platform assists with technical, legal and marketing aspects. Apart from that, the company helps with OTC trading and managing private pools. The main goal is to unite DLT-based businesses into one ecosystem.
Tokenized investment fund – TaaS Capital Fund (TCF) – helps companies and individuals to organize and control their crypto assets. Experienced investors assist with minimizing risks and utilizing algorithmic trading.TCF provides services in fiat and crypto and has taken part in over 50,000 trades and 35 token sales which were chosen from more than thousand projects.
The success rate of the platform is 780% within a year, while token holders get $16 million of profit.
Intrinsic Value Investment Partners – NY-based global investment management firm. It focuses on industrial investments, as well as investments into materials, energy sector, media and telecom industries and retail. The asset classes that get investments are corporate bonds, leveraged loans and equity securities.
InvestorsAlly – investment advisory firm which assists home owners in finding property investors through the matching services.
The company also operates the portal FARJHO as the authoritative marketplace for the crowdfunding of fractional shared home equity ownership.
Kylin Prime Group – the company which provides investment opportunities and advice. Its platform Kylin Prime Fund offers long-term investment returns for both private and institutional investors.The areas of investment are real estate, land development and infrastructure projects.
The National Investor (TNI) – regional private investment firm operating from Abu Dhabi in the UAE. It incorporates investment banking, private equity, asset management, and principal investments including real estate.
The platform offers services to various companies, financial and government institutions, and individuals.
---
Use a chance to get acquainted with large investment organizations at the conference!
Meet new speakers and key news of the conference