Legal Framework for Blockchain in Malta – Chairman of the Dusk Foundation Emanuele Francioni Will Discuss the Issue at the Conference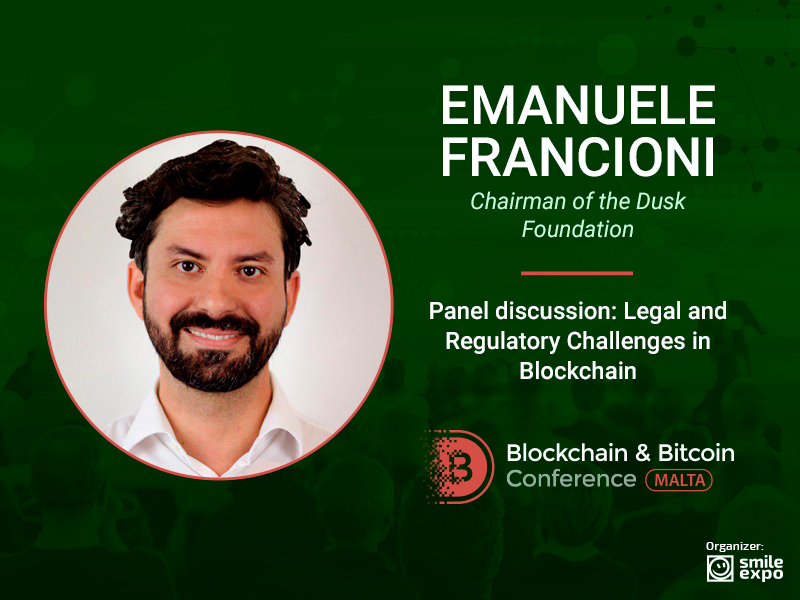 DLT and crypto coins are regulated in many countries, and Malta is not the exception. Moreover, it is the first country to present clear rules for the sphere of DLT with its latest crypto bills. What challenges do they present to the technology and how do they influence its development?
The issues will be analysed at the Blockchain & Bitcoin Conference Malta. Chairman of the Dusk Foundation Emanuele Francioni will take part in the panel discussion, where he will address the legal side of DLT.
Key points:
• how DLT altered taxation;
• regulatory side of ICOs, smart contracts, IP issues and decentralized economy;
• impact of regulations on the blockchain ecosystem;
• comparison of ICO regulations in Malta, Switzerland and the US;
• potential regulatory trends.
Emanuele Francioni is the software developer, engineering manager and lead architect with the 20 years of experience.
Currently, the expert is the Project and Tech Lead at Dusk Foundation – the DLT-based platform with the aim to exchange information without censorship.
Apart from that, the specialist holds a position of the Executive Director at Web 3 Ventures, where he connects investors, entrepreneurs and consumers to enhance the blockchain economy.
The speaker has founded GoSparc BV – the company which has developed the connected car device – SPARC. He was a founder of Beestar as well – the startup developing smart devices for vehicles in the IoT ecosystem. There, the expert was raising funds and working on the strategy.
The expert also has an experience of working in TomTom – the leader in providing navigation and map products. At the company, the speaker had a position of the engineering manager and team lead – he was launching and maintaining the company's software platforms and creating technological roadmaps.
Learn more about the technology's regulations from the crypto specialist at the conference!
---
Meet new speakers and key news of the conference