"It Is Never Too Late to Start Mining" – MyRig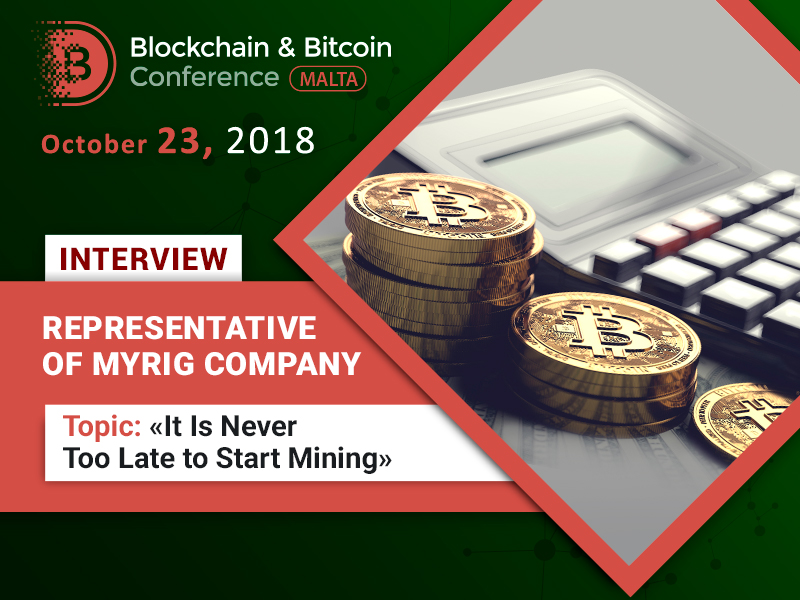 Mining is not only an interesting thing to do but as experience shows, if doing it the right way, it is an activity which brings profit, says the representative of MyRig, mining equipment provider.
MyRig is a company which provides mining equipment and accessories. The organization will take part in the Blockchain & Bitcoin Conference Malta on 23 October. In the interview, MyRig representative and mining expert talked about entering the industry and choosing an equipment. The specialist evaluated the mining prospects and gave advice for achieving success.
Interviewer: Blockchain & Bitcoin Conference Malta (BCM)
Company: MyRig, mining equipment provider (M)
---
BCM: Do you think mining is worth it in 2018 if we see that equipment is getting more and more expensive and mining difficulty rises?
M: Current market situation is truly not the greatest one for mining. But we should not forget about the resources: somebody gets electricity for free, somebody has it for several cents. This is one of the most important factors if you are choosing whether to start mining or to wait for better moment or better equipment to be released.
If we look at mining equipment market conditions, we see that there are more producers, therefore, competition raises. For example, Bitmain has used dumping of prices for equipment and has offered various coupons for future purchases. This policy has made an Antminer's price more attractive.
As for mining difficulty, it definitely increases but it has both positive and negative sides. If miners work, the producer creates an equipment. If the process continues, there is a demand, so mining remains attractive – that is a plus. As for the negative side, mining beginners, who bought equipment after December 2017, have to choose a strategy carefully, as the other variant is only a loss. It is also possible to look for better tariffs, pay in fiat and hold crypto until the exchange rate is nice. This is probably the best way.
---
BCM: Some people say it is too late to start mining. What has changed in 2018 and what potential changes exist? How will they impact mining accessibility?
M: It is never too late to start mining. The most important issue to consider is how long you are ready to wait until you start getting profit. Some people think that investments should pay off in 10 months, others believe 10 months is too long. Apart from that, mining accessibility is directly influenced by cryptocurrency price and mining difficulty.
---
BCM: What obstacles to profitable mining currently exist, in your opinion? Are they powerful enough to consider them and avoid mining in 2018?
M: The most important obstacle is the fast-increasing difficulty which is not similar to how cryptocurrencies exchange rate increases.
---
BCM: If starting mining in 2018, what cryptocurrency is the best to choose for it?
M: Here you should know that it is better to buy mining equipment directly from the producer and with local service being provided. And think about the shipping way in advance: choose the fastest shipping so that you will quickly receive a new miner for cryptocurrency you had previously mined with GPU-farms. This way it will pay off faster.
---
BCM: Could you tell us what capital is necessary for entering mining sphere?
M: Our advice for beginners without an experience is to consider the cheapest ASIC miners. The client should learn about features of the mining process, such as heat rejection while cooling systems are working, importance of stable internet connection and mining equipment placement. Coming back to the question, mining entrance can cost 100-120$: this is the cost of Antminer S5 for 1.15TH/s with power supply of 600 Watt – the best option to get mining experience. After learning more about the process, it is time to choose a cryptocurrency to mine. Then, you will enter the market with the variety of miners from 500$ and more. Equipment used the most is Dragonmint T1 and Antminer S9. Their price is approximately ±1000$, depending on Bitcoin price and amount of market offers.
---
BCM: What advice for achieving mining success can you give?
M: We suggest following several rules:
1. Learn as much information as possible about mining and ASIC chips.
2. Follow cryptocurrency exchange rate.
3. Be patient and never panic.
---
BCM: How could you evaluate the prospects of mining as a phenomenon?
M: We can already evaluate mining prospects. If we look at market offers, further government regulations, the amount of coins and variety of equipment, we can say that there is no mining industry decline coming. As a phenomenon, mining will become more widespread and equipment will be sold at ordinary shops with electronic devices (buying a miner will be the same as buying an electric kettle). Mining is not only an interesting thing to do but as experience shows, if doing it the right way, it is an activity which brings profit!
---
Meet with MyRig representative and learn more about mining at the conference! Registration
Meet new speakers and key news of the conference