How Are ICOs Regulated in Malta? Answer from CEO of Banking Reports David Gyori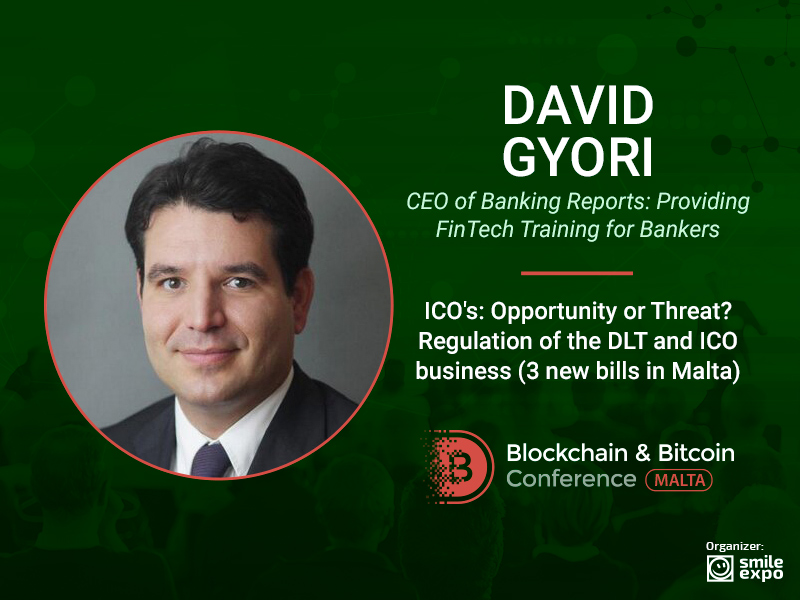 Malta has become the first country to release clear laws on conducting ICOs and developing the blockchain-based businesses. How have they changed the DLT regulatory framework in the country and what impact do they have on the island's economy?
The issues will be analysed at the Blockchain & Bitcoin Conference Malta. CEO of Banking Reports David Gyori will take part in the panel discussion and talk about ICOs and their regulations.
Key points:
• how scams influence legislation;
• how to develop a DLT community;
• how ICOs threaten traditional economy;
• world's views on ICOs;
• ICO marketing;
• regulation of ICOs and trading platforms in Malta.
David Gyori is a qualified fintech consultant. He has a position of the CEO of Banking Reports – the company which provides fintech training for bankers.
Among the topics of consultations there are trends in marketing financial services, digital payments and banking innovations.
Apart from that, the expert is also the Founding Member of The World FinTech Association – the central industry body of financial technologies. At the Association, the specialist also heads the P2P Lending Committee.
More than that, the speaker is a Faculty Member of The Retail Banking Academy, where he delivers training on global banking innovation and transition.
David has also participated in writing of "The FinTech Book: The Financial Technology Handbook for Investors, Entrepreneurs and Visionaries" – he has written the part "FinTech is the Future Itself."
Learn more about DLT and its regulations in Malta from the crypto expert at the conference!
---
Meet new speakers and key news of the conference