Blockchain Will Revolutionize Business – Joseph F. Borg, Partner at WH Partners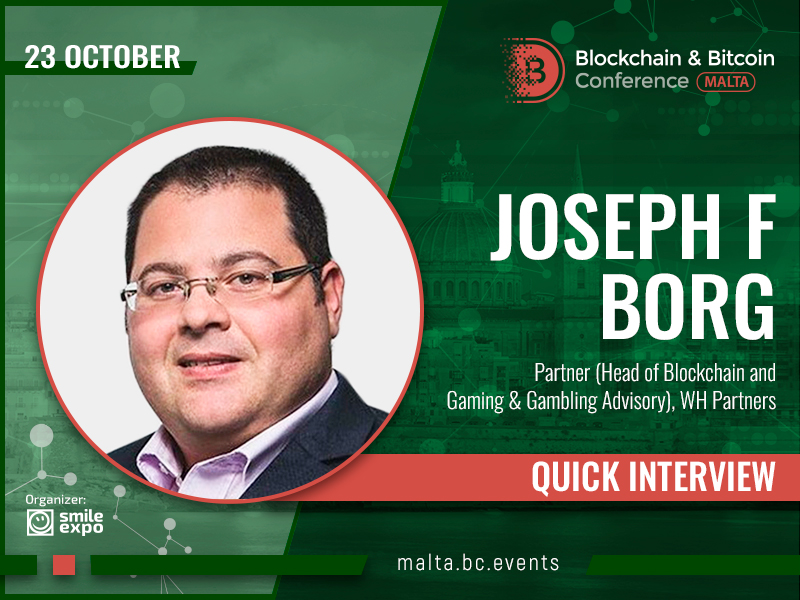 Malta is one of the few countries that is offering the balance between reasonable and robust regulations, believes Joseph F. Borg, Head of Blockchain and Gaming & Gambling Advisory at WH Partners. Answering our rapid-fire questions, the expert talked about his experience in technological field, establishment of Bitmalta and blockchain potential in gaming industry.
Interviewer: Blockchain & Bitcoin Conference Malta (BCM)
Speaker: Joseph F. Borg, Partner at WH Partners (JB)
BCM: What was the starting point for you to join the gaming industry?
JB: Following my completion of the LL.M in IT and Telecommunications law in the UK, I joined Vodafone Malta as a Legal Counsel. After almost three years, I joined the Malta Gaming Authority (called Lotteries and Gaming Authority at the time), as Head of Legal and Enforcement. I spent almost 7 years at the MGA, the last three years of which in the role of Chief Regulatory Officer.
In 2011, I was elected on the board of the International Association of Gaming Regulators (IAGR). I joined WH Partners in 2013 as a Senior Advisor and in 2018 I became a Partner. At WH Partners, I head the Gaming and Gambling Advisory practice as well as the Blockchain Advisory practice.
---
BCM: How did you learn about blockchain and why did the technology catch your attention?
JB: I was following Bitcoin since 2013. However, I only assisted my first client in the blockchain industry in the beginning of 2016. Since then, I got extremely interested and started getting involved heavily.
---
BCM: In what ways did the innovative technology change gambling industry you have worked in?
JB: It has not changed it yet, but it has massive potential of disrupting it and changing it completely. In particular, it can drastically increase transparency and fairness, security and efficiency. P2P games may be revolutionized completely, principally through the use of smart contracts. The latter will also change the way users participate in games and deposit money.
---
BCM: How does your education in technology fields help you with understanding blockchain?
JB: Since I mainly deal with technology-related businesses, the fact that I studied IT law helps me in my daily work. However, technology is constantly evolving and so are the legal and regulatory challenges around it. Very little of what I studied 15 years ago is still applicable today. In this industry, you need to keep abreast of the developments and educate yourself constantly by reading and doing research.
---
BCM: How did blockchain influence your personal perception of business?
JB: I believe in decentralization, so I genuinely believe that blockchain will revolutionize business in a way that will benefit society at large. Unfortunately, many centralized entities in the current business scenario have failed us, and it is time for business to move on to the next step.
---
BCM: How did you come up with an idea to found Bitmalta?
JB: In 2016, I started participating in various social media that were focused on blockchain and cryptocurrencies. That's where I met Jonathan Galea. Together we had this idea to set up a non-profit organization to educate people about the potential of blockchain and lobby the government, authorities and local stakeholders to embrace the technology.
---
BCM: What difficulties did you meet while establishing the organization?
JB: No difficulties whatsoever.
---
BCM: Could you share your experience in relocating crypto exchanges to Malta? What has motivated you to do that?
JB: Since Malta positioned itself at the centre of the map for blockchain-related businesses, a number of exchanges have decided to move their operations to Malta. This shows that exchanges are looking for reasonable but robust regulation, and Malta is one of the few countries that is offering this balance.
---
BCM: What ICOs have you participated in and how did you choose them?
JB: I have advised over 20 ICOs, most of which were launched from Malta. We were one of the first consultancy firms in Malta to provide consultancy in this new industry as we believed immediately in its potential. So, some projects are extremely interesting and disruptive.
Joseph F. Borg will take part in the panel discussion "ICOs: Opportunity or Threat?" at the Blockchain & Bitcoin Conference Malta, where he will talk about DLT regulations and 3 latest bills in Malta.
---
Use a chance to meet the speaker at the conference and learn more about the regulatory rules for blockchain!
Meet new speakers and key news of the conference