Blockchain in sports: what unites crypto smartphone manufacturer and Lionel Messi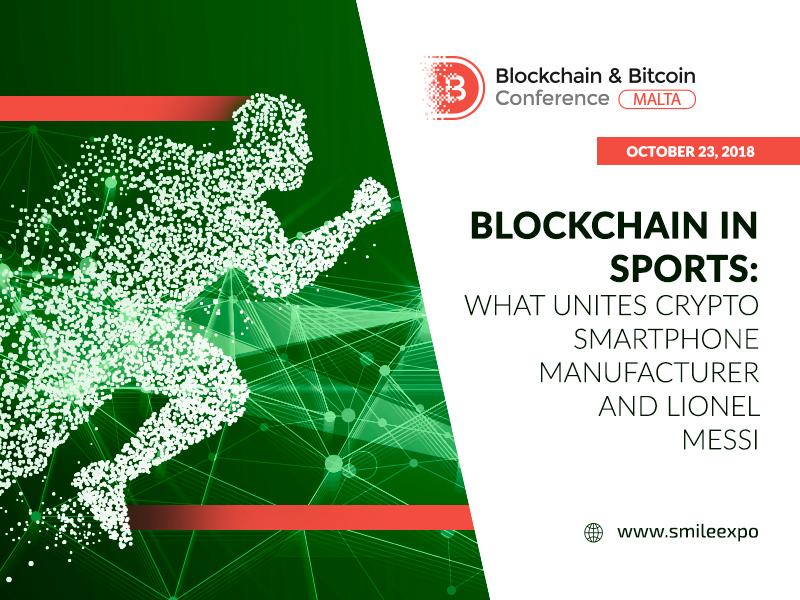 Blockchain technology has proved to be cross-functional for many sectors. Blockchain allows to store either patient record data or information about blockchain transactions. Sports is one of the areas where blockchain technology has become popular. Blockchain startups invite sports stars to be their official representatives, help young athletes to find investors and fans to organize meetings with their idols. Let's examine certain examples showing how blockchain is entering the sports industry.
Blockchain in football
CashBet has concluded an agreement with London-based Arsenal FC. Now, CashBet can use club photos and logos for promotion purposes, while the club official website provides information about CashBet.
One more crypto project has started cooperating with a famous football player. Sirin Labs, a company producing the first crypto smartphone called Finney, has signed an agreement with Lionel Messi. The footballer is the official person in the advertising campaign of Sirin Labs.
Another blockchain platform, Stox engaged in sports forecasts, has gained support of Luis Suarez, a representative of Barcelona FC.
Real Madrid C.F. has supported payments in bitcoins, thus, fans can order an excursion around the Santiago Bernabéu Stadium.
Blockchain in hockey
Hockey players also stay abreast: they make contracts with platforms, become representatives, and even agree to receive a salary in bitcoins.
In early 2018, Denmark-based Rungsted Club changed its name, Rungsted Seier Capital ice rink, for Bitcoin Arena. It was caused by the fact that a bitcoin billionaire Niklas Nikolajsen became its Title Sponsor.
Besides, Niklas offered to pay players in cryptocurrencies. Rungsted hockey player Nikolaj Rosenthal was the first to agree. At the same time, he has signed an agreement protecting him from losses if the bitcoin rate changes.
Sports blockchain platforms
Due to blockchain, there are platforms where one can publish sports content for tokens, store information about user health, and focus on crowd funding. Some of them are described below.
TokenStars
A blockchain platform allowing fans and athletes to cooperate with advertisers and investors without intermediaries.
Its users are able to:
• invite a sports star to the fan meeting;
• find an ambassador for their brands;
• find an investor for promotion at the beginning of career.
If platform users buy TokenStars tokens, they will obtain profit from the turnover, which will be divided proportionally to their shares.
SportyCo
A decentralized crowd funding platform. Like TokenStars, it helps sports players, fans, and advertisers to cooperate directly. The platform is based on Ethereum and aimed at helping young athletes to find financing more promptly.
The platform has the following concept: users conclude a unique contract with a club or a player, invest in it, and receive a percentage of earnings.
According to the results of ICO, SportyCo raised $5 million in 2017.
Lympo
Lympo differs from the first two systems. Its task is to store information about physical health of users and help them to achieve fitness goals.
Users create a fitness wallet on the platform, set sports goals, and obtain LYM token for their achievement. Afterwards, tokens can be spent for sports equipment.
The development started in 2016. Lympo aims to encourage the cooperation between fitness clubs and sports goods shops.
Currently, a minimum sum that investors can put into the project is 1 Ethereum equal to 40 000 LYM.
Scorum
The first blog platform on blockchain. Here, authors create sports content and receive SCR tokens in return.
In early 2018, Scorum raised 5.6 million dollars during its ICO. In future, developers are going to broadcast stadiums and help fans to buy tickets to matches of their favorite teams.
Globatalent
A platform is similar to TokenStars and SportyCo. Investors support beginning athletes and get a percentage of profit. At the same time, Globatalent earns on being an intermediary. The platform focuses on football.
As of today, blockchain for sports is primarily investment projects where athletes take part for promotion.
However, this is not the limit. Using blockchain technology, one can store data for trainings of athletes, information about their physical health and even about dope tests. Therefore, blockchain will become not only a platform for advertisers but also a tool that will make athletes' life easier.
---
Keep an eye on latest changes and follow the blockchain news on the official website of the Blockchain & Bitcoin Conference Malta
Meet new speakers and key news of the conference