Attacking Blockchain: Godwin Schembri and Rodrigo Marcos Will Explain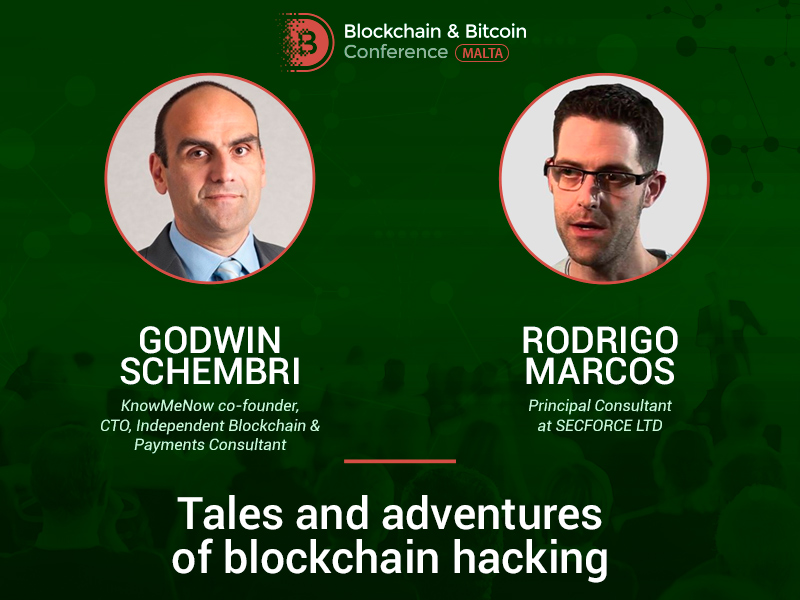 Blockchain is believed to be safe and secure. However, the technology is constantly attempted to be hacked. Why is DLT a chosen target and is it vulnerable to attacks?
The questions will be answered by crypto-experts at the Blockchain & Bitcoin Conference Malta. KnowMeNow Co-founder Godwin Schembri and Principal Consultant at SECFORCE Rodrigo Marcos will discuss tales and adventures of blockchain hacking.
Main concepts:
• what makes blockchain technology an attractive target for attackers;
• types of attacks most commonly used by hackers;
• notorious hacks over the short history of blockchain;
• details of attacking techniques;
• typical pitfalls in cryptocurrency projects;
• how to make a deployment more secure and minimise the impact of potential attacks.
Godwin Schembri is the payment technologies expert with over 25 years of experience. He specializes in product development, IT Strategy, Blockchain architecture, and Tokenomics. The speaker also works with Cloud Architecture and eCommerce.
Currently, Schembri is the CTO and co-founder at KnowMeNow – the company providing architecture solutions based on DLT. The expert is also an Independent Blockchain & Payments Consultant at Payformance.Consulting where he provides advice on GDPR, PCI compliance and commercial agreements.
The expert will be joined by Rodrigo Marcos, Principal Consultant at SECFORCE. Marcos is the CREST certified consultant with broad experience.
He performs security audits and penetration testing as well as testing of web-based applications. His company provides effective business risk intelligence and security guidance.
Marcos is also a Chapter leader at OWASP Foundation and a co-author of "SQL Injection Attacks and Defense."
Meet the experts at the conference, learn more about blockchain attacks and how to protect the technology at the conference!
---